to carry our line of products

SilenX global home
Welcome to SilenX.com, home of the world's quietest fans and heatsinks. We've just revamped our site to feature clutter free navigation and a cleaner layout. If you have any questions or are interested in reviewing our products, feel free to drop us a line using our Contact Us tab above. To purchase our award-winning products, head to the Where To Buy tab above.

EFX-12-12 review
Many system builders--whether professional, enthusiast, or regular consumers--are on the look out for products that can do the job well without breaking the bank. The SilenX EFX-12-12 is just such a product. It is well constructed, very quiet, and inexpensive. As can be seen from the test results it performs better than one would expect given it's RPM and CFM ratings. If looking for a silent replacement for a CPU cooler fan, or an aftermarket fan to improve airflow in a case this fan is definitely worth consideration. The included mounting hardware gives consumers a choice between screws and anti-vibration mounts, while the power connectors allow installation into any existing setup.




EFX-12-12 details

bjorn3d review

EFX-14-12 review
Overall I was quite surprised with both of these SilenX fans. Expecting them to be focused solely on the audible sound levels, I did not foresee them to produce much airflow. However the design of these fans is well worth a look at. The silicone mounting is by no means a novel concept or even an addition, but just the change in installing a fan made it interesting and fun. I can really see how this would help reduce noise with either loose screws or simply stripped fan holes. After moving fans from case to case and build to build the threads tend to take a beating and have less of a firm grip, these mounts simply work!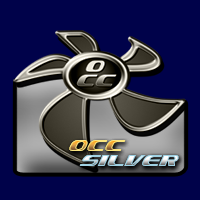 EFX-14-12 details

overclockersclub review