tomshardware Review
This cooling fan roundup has been a long time coming and requested by quite a few in the forum, it covers a total of 36 cooling fans, 20 120mm and 16 140mm, they were tested for load temperature performance, velocity airflow in FPM (Feet per Minute), volume airflow in CFM (Cubic Feet per Minute), and noise levels.

tomshardware review
pc-experience Review
The SilenX Effizio is a great fan, not only is it inexpensive, it includes vibration decoupling mounting screws, connector adapters and comes well equipped. It also comes with quality FDB bearings and a carefully balanced motor, it exhibited no vibrational noise or buzzing sounds, quite a feat! Despite its relatively low rated speed, it has a low startup voltage of just 3.88 volts. The vibration level is so low, you could use this fan in any orientation without the use of the vibration decoupling mounting screws. We give it a gold award for its outstanding performance and achievement.



pc-experience review
overclockersclub Review
Overall I was quite surprised with both of these SilenX fans. Expecting them to be focused solely on the audible sound levels, I did not foresee them to produce much airflow. However the design of these fans is well worth a look at. The silicone mounting is by no means a novel concept or even an addition, but just the change in installing a fan made it interesting and fun. I can really see how this would help reduce noise with either loose screws or simply stripped fan holes. After moving fans from case to case and build to build the threads tend to take a beating and have less of a firm grip, these mounts simply work!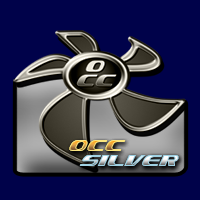 overclockersclub review